6. How to add new customer branch locations?
All customers must have at least one branch that contains information about the delivery address, the sales area, the tax code, the sales representative and other regional information. Branches are always required when setting up customers. There is no limit to the number of branches that can be referenced against a single customer. Only one statement will print per customer, but each invoice will be referenced to the branch it was delivered to.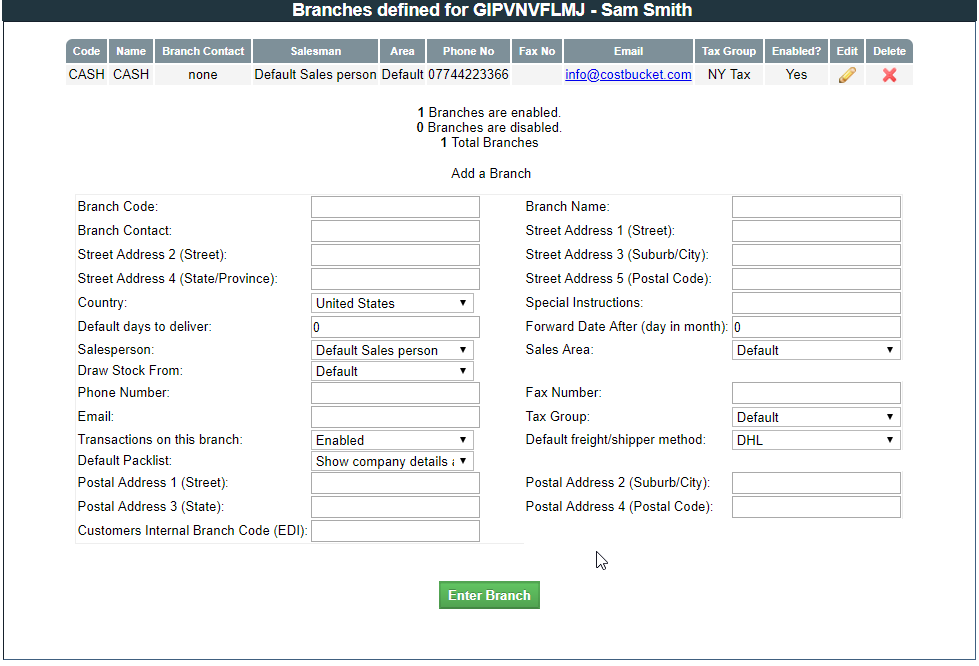 Branch Name
The branch name is used on packing slips to identify the name to where delivery should be made. It is also used in looking up sales orders.
Branch Code
The branch code is stored in transactions and can be up to 10 characters long. Two branches cannot have the same code for the same customer. Branch codes (and other codes) cannot contain spaces, commas, & or –
Branch Contact / Phone / Fax / Address
The branch contact is the name of the purchasing manager to whom goods and inquiries would be addressed at the branch. A head office branch could be created to identify contact names for account inquiries. It doesn't matter that such a branch may not be invoiced to.
The address is the physical address of the branch for deliveries. As much detail as is required on labels to get the goods to the desired destination should be entered.
Sales Person
A select box is available to enter the salesperson who services this branch.
Draw Stock From
Branches local to a particular warehouse can be associated with the local warehouse by setting this field to the preferred stocking location. This affects the entry of sales orders that default to the stock location entered here. It can be overridden at the time of order entry.
Tax Authority
The tax authority of the branch determines the regime for tax calculations at invoice and credit time.
Disable Transactions
This flag – either enabled or disabled – either includes the branch as available for new sales orders or not. If it is set to disable then the branch will not appear on the order entry branch lookup.
Default Freight Company
A select box allows the selection of the freight company that is most cost/service effective for deliveries to this branch. The entry in this field serves as the default for future sales orders. If it is changed at order entry stage, the overridden entry become the new entry for this field.