5. How to create new customer?
There are two methods to create a customer.
The first method which is a shortcut to directly inputting in the cloud cost accounting software is to use the Customer Module in the home app section by clicking on the customer app then new.


The second option is directly in the customer management module in the cloud cost accounting software by navigating to the left sales menu and click on manage customers then select new on the menu.
From the left menu, select Sales to open up the drop-down menu, select Manage Customers.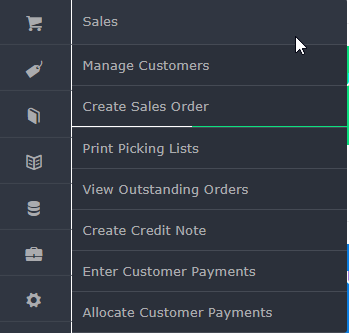 The customer module will open in the center of the screen. select "New"

Customer menu options
New – create new customer
Edit – modify existing customer
Remove – delete customer. Only possible if no sales transactions processed against customer account
Inquiries
transaction inquiry – view customer sales transactions
print customer statement
view order inquiry
Transaction
modify outstanding sales order
allocate receipts or credit notes
Maintenance – Create and manage customer branch.